The 2020 guide to Amazon selling and Amazon Seller Central.
Seller Central (Anything related to, setting up an account, Making a listing, Making a shipping plan, Making a variation, Getting reports, …)
 Seller Central
Seller central is the interface that a seller on Amazon uses to list their products on www.amazon.com. It allows you to interact as a 3rd party seller on the Amazon marketplace.
Some of the pros associated with Seller Central is that you have a lot of control of your product and the pricing associated with your product. In addition to paying the $39.99 monthly fee you will also be paying Amazon a percentage of your sales based on the category you are selling in. It is usually around 15% of the sales price of the product.
The Amazon online marketplace gives you access to millions of e-commerce customers through the worlds largest online platform.
So how do we decide on what to sell on Amazon?
 This is hard to determine because you must first establish what kind of budget you have, your manufacturing experience and e-commerce experience.
3 of the main ways to source product will be to go to the manufacturer, go to the retailer or simply create your own product.
Depending on which way you source your product will determine how much you will have to spend on the product that you are selling or vise versa.
To be able to sell on Amazon, you must set up an account through Amazon.
How to open up an Amazon Seller Account
Go to google and search how to sell on Amazon. Click on the following link.

Then click on start selling.
The other way is to go to Amazon.com and scroll to the bottom.

Then click on Sell on Amazon in the second column.
That link will bring you back to the start selling link that I previously mentioned.
We recommend the $39.99 a month plan. It will ask you to enter you name email and password.
Setting up Seller Central
Once you are signed in, you will have to set up the account. If you have an LLC put in the LLC name or the name you have come up with so far. If you just put in your name, it will ask for your social security number.
It will also ask you if you are an international seller which will be different requirements. Enter a unique display name. Your unique display name can be changed in the future. Sometimes other sellers will have the display name you would like.
You will then need to get a SMS from Amazon to verify the phone number. It will send through a pin that you will put back into the verify area. They will ask to present a credit card number, address and bank account info for deposits from sales.
Now you need to provide tax information. If it is just you it can be registered as a sole proprietor. If you have an LLC, you can enter that information. For tax purposes are you a US tax person. Enter your information in and the address. Once you submit all that information you should have an Amazon Seller account.
The account will be suspended until you provide the following information.
A scanned copy of your ID
Utility bill showing address
Business License from your local authority
This can take up to 15 days to be approved and if you didn't enter the correct information it can take up to 30 days to get approved.
Introduction to Seller Central
Once you are all register you will arrive at Seller central which will show you store name. On the main seller central interface, you can collapse and alter these areas. When customers place order they will populate here. Pending will appear when the payment is pending. It could be due to payment complications with the provider or other situations.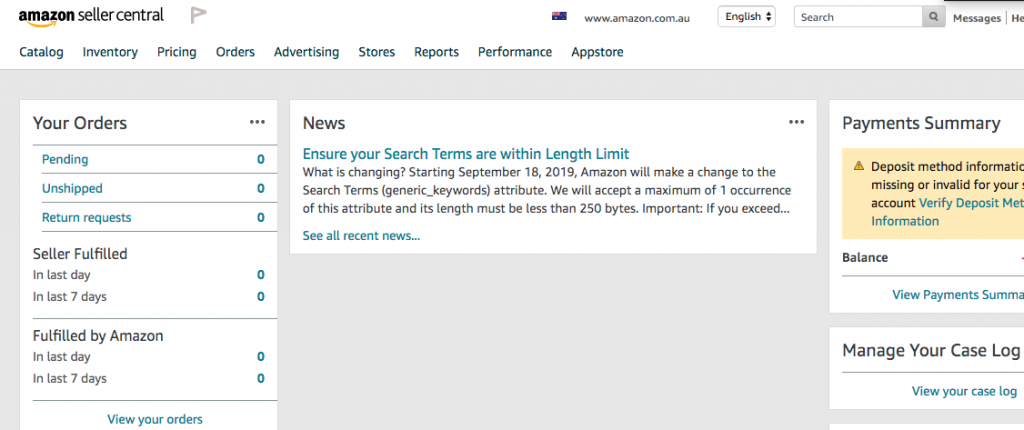 Return requests you can automatically authorize based on Amazons policy which is recommended. Or you choose to to individually authorize.
Listing your product on Seller Central
Once your Seller Central account is set up and you have your product ready you can create a product listing. Listing your product is one of the most important steps in your success on Amazon. The listing is the place where consumers are going to interact with the product prior to purchase.
Things to consider
GTIN's and UPC's
GTIN's are a good thing to familiarize yourself with prior to launching your product. Please read our article on GTIN's and UPC's here.
Photo's
Having professional photos take and graphic design work done prior to listing will make or break your listing. The visual aspect of your listing is very important. If you have never dealt with graphic design or taking photos it is probably best to outsource this task to a professional.
A few tips; The product should take up 85% of the photo and have 1000 pixels on the short side for zoom purposes. Amazon recommends 4 photos but we recommend that you put as many as you can in the listing. Also prior to listing you should have every detail about your product including the size, weight, features, etc…
Now have a look at other peoples listing that are doing well. Look at how they are presented and what makes them stand out against the competition. Write those points down. Do some have too much going on? Are others too simple? What makes the listing great?
Please have a look at keywords blog to understand keywords and what keywords you should be including in your listing. Include the top keywords in the title. All the rest should be in the product description.
Now that you have you titles, photos and description. You can start with your product category. A good approach it to look at your top competitors to see how they have approached their category and sub categories.
How to create an Amazon Listing and Product?
 Let's get started listing your product on Amazon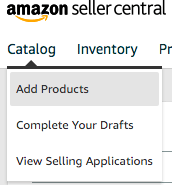 Overview
You need to go to the Catalogue and Add Product. Click on Create a New Product Listing
On the Seller central page, you go to the Dashboard
Inventory
Add a product

Then create new product listing
From the dropdown select your category and subcategory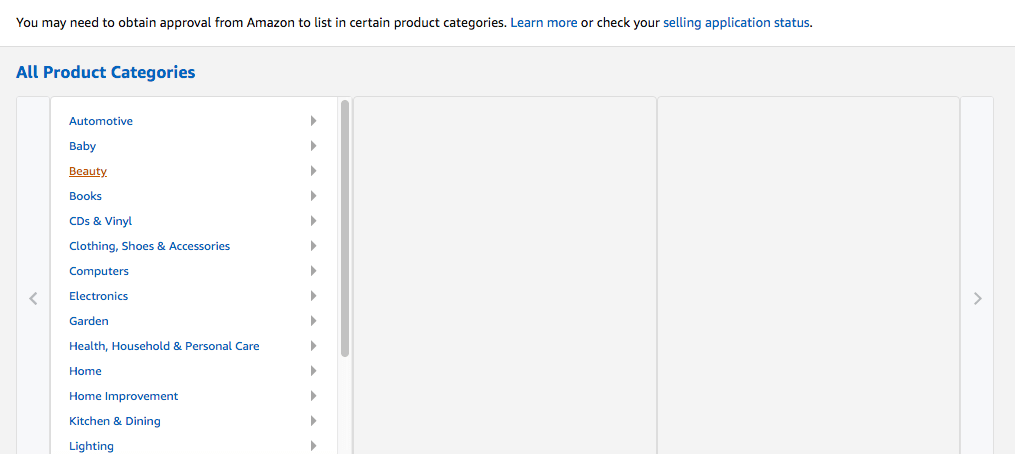 There will be an area called advanced view to see more details to fill in.

Fill in the Vital info, offer and description pages.
If you just have one variation of your product you are done. If you have different variations of your product you will have to create variations.
More in depth look at listing your product on Amazon
It will then ask you to search the category. You can enter your main product keyword. It will then give you a few different ideas of what category the product is under.
A good way is to go into Amazon and search your keywords. Take a look at what categories your competitors are in. You will have to choose one. In the future you can ask to be in more than one. It will bring up a page for you to fill in the necessary information about the product that you enter. The sections include vital info, variations, offer, and images.
Under Vital Info the following information will be required. Everything with a red asterisk will be required. The
Product ID
Product Name or title (Should include your two main keywords)
Brand Name
Manufacturer
Manufacturer Part Number
Unit Count
Unit Count Type
All of this can be edited later including the title. Under offer you will need to enter the following;
Seller SKU- Important- You need an SKU
Your Price
Condition
Fulfillment channel- Fulfillment by Amazon or Fulfillment by Merchant
Other sections that need to be entered include
Compliance
Images
Description
Keywords
More details
Once that is completed the save and finish button will appear.
Amazon Product Listing Variations
 You can search the "Inventory files template" in the help tab of your dashboard. Download the link that correlates with your category.
There should be instructions for each template listed once you download.
You can now upload that onto Amazon.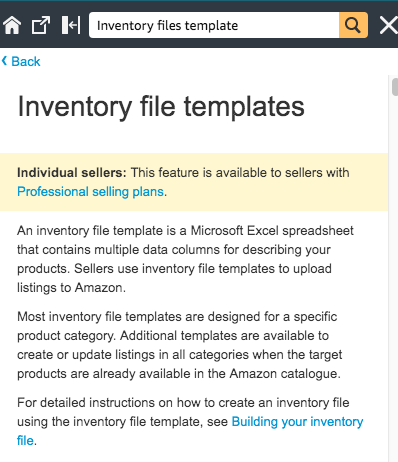 Amazon Seller Central Shipping plan
How to create an Amazon Shipping Plan in 2020 for Amazon
A shipping plan is made when you are ready to send your products into Amazon.
The shipping plan specifies the products
You begin a shipping plan by specifying the products, quantity, method carrier, and if you are going to prep and label the product or will Amazon's staff.
You can create a shipping plan in bulk through a spreadsheet. You must save it in a .txt format and upload it into seller central.
The easy process to creating your shipping plan.
Navigate your way to inventory in the menu bar on your seller central account. Go to the Manage inventory page.
You will tick the box on the far left of the product listing that is shown.
Click on Action 1 selected from a dropdown list you can select to add or replenish inventory. Then create a new shipping plan.